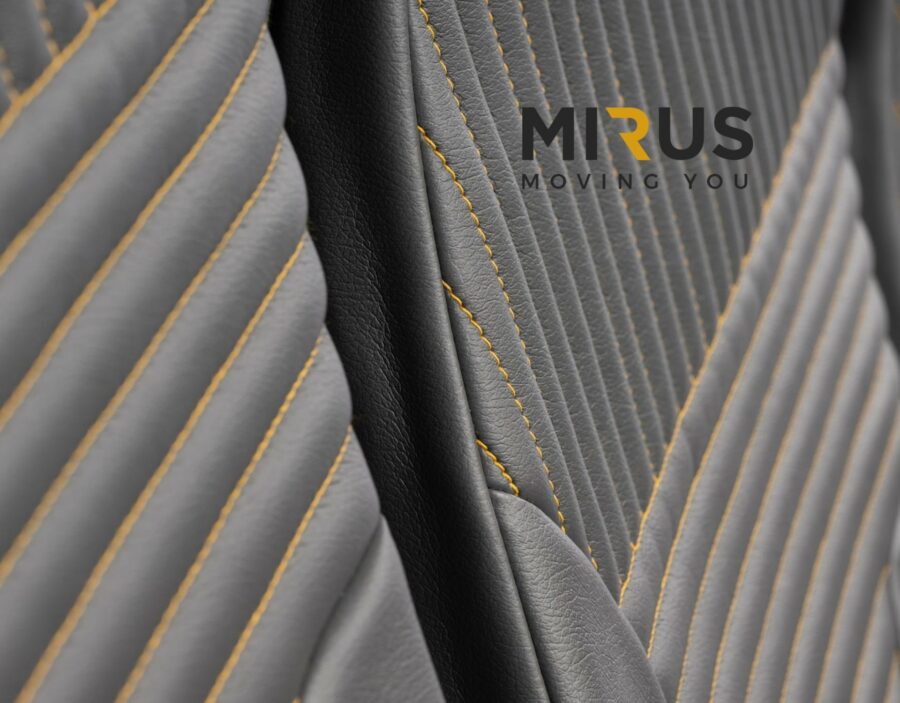 The COVID-19 pandemic had a profound and wide-ranging impact on the airline industry. Travel restrictions and reduced demand resulted in fleet grounding, route cancellations, workforce reductions, financial losses, and in some cases even bankruptcies.
The domino effect quickly followed impacting the suppliers to the airline industry, including aircraft seating manufacturers. They experienced deferred or canceled orders or in the best cases significantly reduced demand coupled with supply chain disruptions that resulted in significant financial strain on most.
To weather the impact of the pandemic, seating suppliers had to adapt their strategies and operations. Some suppliers shifted their focus to retrofitting existing aircraft instead of manufacturing new seating. Others explored innovative solutions to enhance passenger comfort and safety, such as antimicrobial materials, social distancing configurations, and touchless features.
However, Mirus Aircraft Seating, a UK-headquartered high-performance technology company focused on the design, certification, manufacture, and sales of commercial aircraft economy class seating, had a different strategy.
A relatively new player in the aircraft interiors market, Mirus managed to sustain its business throughout the pandemic thanks to a supportive investor who strongly believed in its highly engineered product offering. Mirus used this time to evaluate its business and to prepare to effectively scale it after the COVID-19 pandemic.
Following the recommendation from their consultancy firm to invest in talent, Ben McGuire, CEO and co-founder of Mirus Aircraft Seating, turned to Pacific International Executive Search to identify and attract high-impact individuals to create a transformational leadership team capable of delivering the company's ambitious growth plans and enable Mirus to triple in size over the following five years.
At that time, Mirus had a small sales function, limited production capacity, and minimal supply chain and procurement functions. Hiring a Director of Engineering, a Director of Supply Chain and Procurement, a Director of Operations, and a Commerical Director would effectively create an additional layer of executive leaders who will be tasked with taking Mirus to new heights and helping it to thrive in the post-COVID era.
The Challenge
Mirus Aircraft Seating is based in a remote part of the UK, near Pacific's registered office in Norfolk, the area with no aerospace original equipment manufacturers (OEMs) and limited aerospace and automotive manufacturing industry in the vicinity, apart from Lotus, Ben McGuire's former employer.
Mirus leveraged its network and successfully secured a Director of Engineering from Acro Aircraft Seating, one of its main competitors in the UK. However, hiring the rest of the team posed additional challenges that required engaging a Trusted Partner.
David Howells, the CEO of Pacific International Executive Search explained: "Firstly, there was a need for complete confidentiality as retaining the existing team was of paramount importance to Ben. Pacific already has secure systems, processes, and procedures in place to complete confidential mandates.
"Secondly, there aren't many aircraft seating manufacturers or even interiors manufacturing businesses that are headquartered in the UK so the pool of potential candidates was very limited. At Pacific, we face such challenges every day but our deep industry and cross-sector expertise coupled with our out-of-the-box thinking help us overcome these issues every time.
"Thirdly, after investing significant time with Mirus' CEO to understand the business and industry dynamics, it became very clear that the cultural fit and the understanding of the cultural dynamic of their organization which had fewer than 100 people at the time, played a key role in the search. Ben knew what types of businesses he wanted us to target and which ones didn't have the right culture, and this narrowed down the search considerably. However, as a global executive search firm, this played to our strength of attracting transformational talent globally."
Claire Butcher, Client Delivery Partner at the time of the project at Pacific International, added: "We had experience working with other aircraft seating manufacturers and other aviation businesses
like Safran or Recaro, some of the biggest players in their market, but what Mirus lacked in size, it more than made up in tremendous growth potential and ambitious targets for the future.
"It also has a passionate and compelling leader in Ben, who is also an excellent business partner to work with. He is open, honest, and an unconventional thinker when it comes to the executive search process and this made the project exciting and dynamic."
David added, "Taking all of these factors into account helped us develop a compelling go-to-market strategy that enabled us to complete the mandates and to assemble a high-impact leadership team to drive Mirus' growth and success."
The Solution
There is one more important aspect we need to mention that significantly impacted these searches – the fallout from the pandemic and the impact it had on the candidates' mindset.
For many people around the world, the Covid-19 pandemic highlighted the fragility of life and the importance of work-life balance and well-being. Many executives became more risk averse and they re-evaluated their priorities when the widespread adoption of remote work showed them the value of spending more time with their loved ones leading to an increased emphasis on these factors during the candidate evaluation process.
David explained: "Mirus is a relatively small manufacturing company and given their growth plans and the need for the new leadership team to build close working relationships with the existing management team, remote work was not an option apart for the Sales and Commercial Director role. Also, given where it is based, the roles required a full relocation. It's Mirus' powerful story that we could take to market that gave us confidence in our ability to attract exceptional talent."
There was only a small cross-section of people in the UK who would fit the description of ideal candidates so after a detailed briefing, Pacific's research team created a list of target companies within the aircraft seating industry, the wider interiors industry, and other aircraft interior manufacturing companies of galleys, lighting, and avionics.
Our multi-lingual delivery team mapped the talent market, leveraged their existing networks to gain further insights into the talent pool, and used prior industry expertise to devise the most effective talent sourcing and attraction strategy focused on both active and passive candidates.
As an Executive Search firm, Pacific International champions diversity for every engagement. 40% of all our successfully introduced candidates over the last 3 years have been diverse hires so we were determined to present a diverse slate of candidates for each mandate.
David commented: "While we faced challenges in successfully placing diverse candidates into these roles, we were still able to include diverse candidates in the shortlists. We remain undeterred in our quest to champion diversity for every executive search mandate we work on."
Going the Extra Mile
Finding extraordinary talent for Mirus was only half the achievement. Getting them successfully onboarded and settled was another challenge altogether.
David commented: "Relocation support was an integral part of our services. Although we didn't provide monetary assistance, both myself and my business partner Will Minns, who is familiar with the local area, offered guidance on various aspects such as schools for the kids and general regional knowledge.
"Martin Clerk, the Director of Supply Chain, who had previous experience in UK-based interiors and electronics industry companies, joined Mirus for an initial six-month interim assignment while relocating his family, selling his house, and ensuring a smooth transition for his children, including finding a local school.
"Marcus Williams, the Commercial Director, came to Mirus from an aircraft lighting interiors firm.
"James Wright, who's originally British, relocated back from Germany to the UK to join Mirus as Director of Operations."
David stated, "Every client is different and has different needs. In Mirus' case, we aimed to provide a comprehensive service that addressed their and their candidates' needs throughout the whole executive search process. Building lasting partnerships with our clients and becoming their Trusted Executive Search Partner and Advisor is the North Star that guides our actions."
Ongoing Partnership
Following the successful completion of this multi-hire project, Pacific has firmly established its position as Mirus's Trusted Advisor and exclusive Talent Acquisition partner. The company continues working with Mirus's Board to deliver strategic leadership talent to help them achieve their business goals.
Claudia Lemke, Client Partner, EMEA & LATAM at Pacific International, commented: "As Client Partner, I collaborate with a select group of clients, including Mirus Aircraft Seating, to shape their talent strategy and provide valuable advice to safeguard the strength of their leadership team. Mirus's remarkable growth journey and Ben's well-defined vision for the business serve as our guiding forces, enabling us to remain focused and proactively anticipate their future talent needs. I look forward to our long-term successful cooperation."
For a confidential chat about how Pacific International can assist you with your Automotive and Aerospace Talent Acquisitions and Diversity challenges, please contact Manuel Preg or one of our Executive Search Consultants specialising in your sector.
Recent posts
Sprechen Sie mit unseren
Executive-Search-Expert*innen
oder senden Sie uns eine Nachricht
Ihre Anfrage