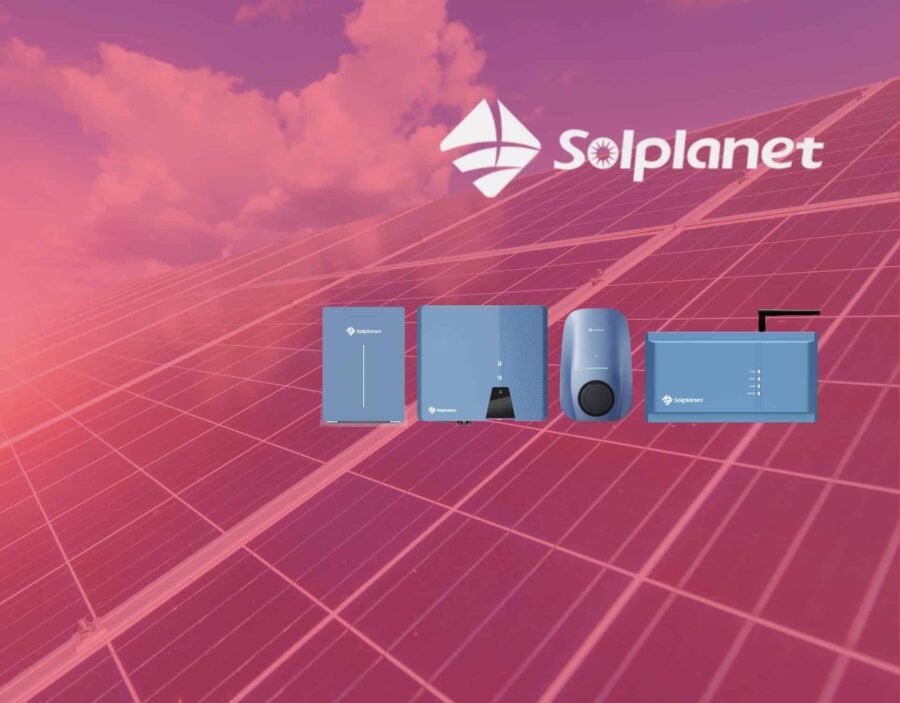 The demand for talent in the Cleantech and Renewable Energy industry is unquenchable, giving a new significance to the war for talent. The upside is that it is fuelled by the increasing global recognition that the looming climate catastrophe can only be averted through a decisive transition from fossil fuels to sustainable alternatives, the adoption of circular economy practices, and a growing emphasis on sustainability.
For many companies acquiring the right talent is the most important key to growth so when access to talent is scarce retaining the right Trusted Advisor and Executive Search partner is that secret ingredient that makes all the difference.
Solplanet is an energy company focused on solar products, mainly Single-Phase, Three-Phase, and Hybrid inverters, intuitive monitoring solutions, and smart EV Chargers all compliant with international high-quality standards and aims to make solar energy accessible to everyone. Solplanet is a brand of AISWEI (formerly known as SMA's Chinese subsidiary), an independent research, development, and manufacturing company. A recent equity restructuring puts AISWEI on a particularly strong financial footing within the industry.
Just like many companies in the sector, Solplanet wants to monetize the growth trend and the huge demand for its products. The right talent, particularly an effective commercial team, is crucial to achieving their objectives and ambitious targets. Given Pacific International's reputation within the renewable energy industry and its track record of building successful sales and commercial teams, Solplanet retained Pacific International Executive Search to expand its sales department in the DACH and Benelux region, to find a Managing Director for the DACH and Benelux region and a Key Account Manager for Benelux.
The Challenge
Natalia Zonneveld, Client Delivery Manager, Renewable Energy & Cleantech EMEA and the lead consultant on these projects, explained the challenges facing the team: "Given the competitiveness of the sector, and with Solplanet being a newly established brand in the DACH and BENELUX, we knew from the moment we started the search that the right go-to-market strategy will play a key role in attracting high-calibre candidates to these roles. We immersed ourselves in Solpalnet's culture and we quickly zeroed in on their key differentiators: their diverse team, ongoing growth, and the freedom they offer to their employees."
Natalia continued: "In addition, the client emphasized the importance of finding candidates fluent in Dutch and German, as well as individuals with a strong technical background in the Solar industry. Pacific International prides itself on its multi-lingual delivery team so we were very confident in our ability to competently assess language capabilities of non-native or non-bilingual candidates."
"During the research and talent mapping stage, we speak to a huge number of talented individuals allowing us to act as our client's brand ambassador. Companies within the Solar and Cleantech industry compete for talent among a limited group of individuals so this additional recognition and getting on these individuals' radar might have a positive impact on their future hiring prospects. This is how Pacific adds value to our clients beyond sourcing transformational talent," added Natalia.
The Solution
The Sales Managers we placed were individual contributors who would be working cross-functionally and covering the DACH region including Germany, Austria, Switzerland, and the Benelux. Both candidates had excellent technical backgrounds in electrical engineering and prior experience in the solar PV market, particularly with inverters. This expertise played a significant role in their successful placement.
Reporting to the Managing Director in Germany, the Sales Managers will play a crucial role in expanding Solplanet's presence in the respective regions building on Solplanet's manufacturing and innovation capabilities in Belgium, the Netherlands, and Germany.
Natalia described the search process: "In terms of our delivery approach, we conducted an initial intake call to understand the client's values, culture, and expectations and to develop the most effective go-to-market strategy. Leveraging our market knowledge and networks we have developed over the years including face-to-face meetings at industry trade shows, we employed a dual approach of tapping into our existing candidate pool and proactively reaching out to potential candidates in the market."
"Due to the tight competition in the German renewable energy sector, we had to work quickly and ensure we also had backup candidates ready. Our multilingual capabilities, including my fluency in German, facilitated effective communication and rapport-building with candidates. By speaking the candidates' native languages, we established stronger connections and created a more personal bond throughout the executive search process," added Natalia.
"As part of the search and selection process, we conduct video interviews to screen candidates based on their skill sets, industry knowledge and experience, education, and passion for the role. This thorough assessment process ensures we present the most suitable candidates to our client saving their valuable time while mitigating bias and taking the guesswork out of the selection process. Overall, we long-listed over 300 candidates for these positions to secure three offers. It is a lot of conversations and interviews with talented individuals to source and attract extraordinary leaders to Solplanet but it gives us and the client the confidence that we have secured the best talent on the market for them and this is what the true executive search is all about," concluded Natalia.
Eike-Ph. Breukhoven, the newly appointed Sales Manager for the DACH region at Solplanet, commented:
"I was impressed by Pacific International's professionalism from the start, Natalia's in particular. The search process was transparent and well-structured with regular and informative updates throughout. As my next career step, I was looking for a challenging position where I could fully utilize my skills, be part of a strong team, and work in a future-proof industry. My new position perfectly meets my expectations, I like the team and I am confident that I have made the right decision. I look forward to a long and rewarding career at Solplanet."
The Ongoing Partnership
One of the key differentiators between Pacific International Executive Search and contingent recruiters is the level of candidate care we provide during the recruitment process and after the acceptance of the offer.
Natalia stated: "Pacific takes our 'brand ambassador' role very seriously and always acts as an extension of the client's team. We also take Pacific's reputation very seriously. We are planning to serve the Solar and Renewable Energy industry for the foreseeable future so leaving a good impression, particularly on unsuccessful candidates, ensures we don't burn the bridges behind us. Our candidate aftercare program allows us to maintain regular contact with the placed candidate to safeguard their smooth onboarding and satisfaction in their new roles. We conduct check-ins after the first week, three months, and six months to address any concerns, evaluate the candidate's performance with the client, and offer support when needed. This approach has served our company, the candidates, and our clients well allowing us to identify potential pitfalls early on and alerting our clients to take action."
Following the success of this multi-placement mandate, the efficiency of our processes, and the strong support offered to candidates throughout their executive search journey have all made an impression on Solplanet, exceeding their expectations. This helped Pacific cement its position as Solplanet's Trusted Advisor resulting in continued partnerships and further engagements.
Frank Schulte, Managing Director for D-A-CH and Benelux at Solplanet commented:
"Pacific is doing a great job finding exceptional talent for our company, exactly what I expect from an Executive Search specialist of their caliber who is invested in our success. What I particularly like is that they never fail to spot high-impact individuals and challenge us in the right way to see the value they are bringing to the table. We are happy to work with the Pacific team and I look forward to our collaboration on future projects."
For a confidential chat about how Pacific International can assist you with your Cleantech and Renewable Energy Talent Acquisitions and Diversity challenges, please contact Ruppert Haffenden or one of our Executive Search Consultants specialising in your sector.
Recent posts
Sprechen Sie mit unseren
Executive-Search-Expert*innen
oder senden Sie uns eine Nachricht
Ihre Anfrage