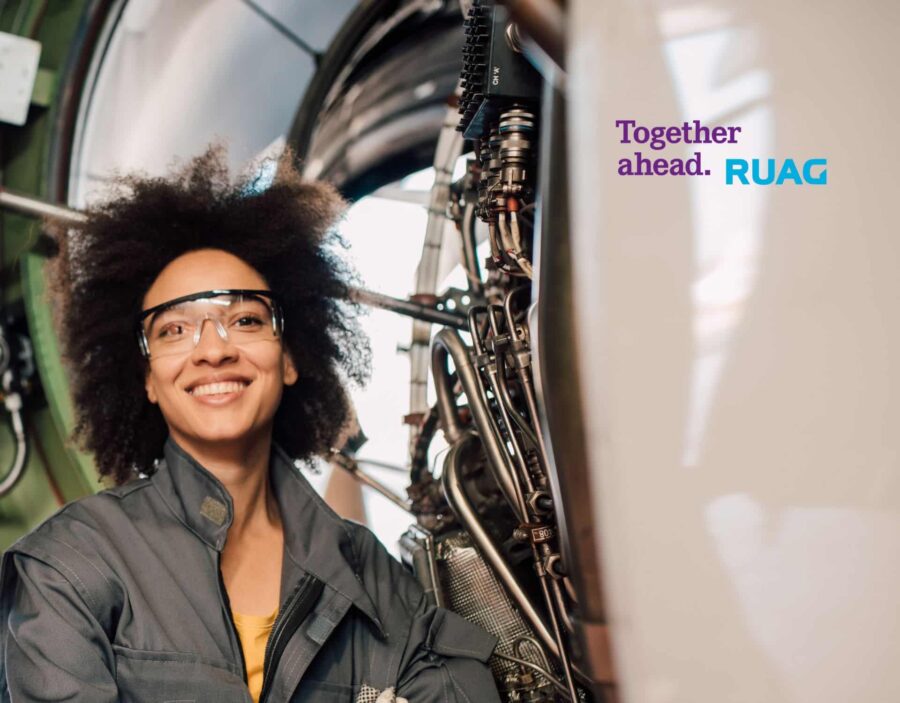 While the aerospace industry returns to growth post the COVID-19 pandemic, the increased pressure on aviation companies to reduce the environmental impact of their operations, and the need to implement resource-efficient practices, circular economy programs, and explore alternative materials that will help reduce resource consumption are gaining momentum.
Addressing these sustainability issues in the aerospace manufacturing industry is crucial for achieving a more environmentally responsible and resilient aviation sector. It requires collaboration among industry stakeholders, technological advancements, policy changes, and a commitment to sustainable practices throughout the entire aerospace supply chain.
Like many companies in this space, RUAG Aerostructures, a globally active Tier-1 supplier developing and manufacturing complete aircraft tail sections, wing and flight control components, structural elements, modules, and systems for civilian and military customers and Original Equipment Manufacturers (OEMs), is going through a significant transformation to address sustainability issues as well as to increase the diversity among its leadership team.
RUAG Aerostructures' needed to identify and attract a Chief Human Resources Officer (CHRO) due to their CHRO leaving the company. They had attempted to search for a replacement themselves for about three months but were unsuccessful in finding a suitable candidate. As the resignation date approached, they retained Pacific International Executive Search, who they have successfully worked with in the past, to help them identify and attract a transformational leader in HR for Germany and Hungary. The research-led search resulted in successfully attracting a highly skilled female CHRO within six weeks.
Sandra Ulrich, Client Delivery Manager at the time and now Head of the Sector for Pharmaceuticals, Life Sciences & Biotechnology, EMEA at Pacific International, commented, "The CHRO position was an excellent opportunity for an individual with the perfect blend of aerospace industry experience, council expertise, and law background to influence and shape HR strategies at Ruag by working directly with the CEO. We were able to identify an exceptional candidate but there was a catch: as a working mother who wanted to maintain a healthy work-life balance, she could only commit to the role on a reduced-hours basis. However, Ruag did not want to miss an opportunity to bring such skills, experience, and cultural fit on board. They showed an exceptional vision by accommodating the candidate's needs and making this work for both parties shifting the paradigm in the process and setting an example for others."
"Pacific's mission is to guide and advise our clients towards appointments that will help them gain competitive advantage and secure the talent they need to meet their strategic objectives. To achieve this, we spend time getting to truly know them and, if necessary, challenge them to shift their thinking to secure the transformational talent they need. For us, it's about earning trust, forming long-term business partnerships, and having our client's best interest as our guiding North Star. The fact that this appointment contributed to the further development of our existing client relationship was particularly rewarding," added Sandra.
The Challenge
Impressed with Pacific's performance yet again, RUAG Aerostructures retained Pacific International for further three leadership roles: Environmental, Health, and Safety (EHS) Manager, a confidential role, and Head of Procurement & Strategic Supplier Development. These engagements reflected the client's confidence in Pacific's ability to find suitable candidates for critical leadership positions at the company.
Sandra explained: "Executive Search firms like Pacific International are ideal trusted partners for discreet mandates and we are proud that each year more and more companies retain Pacific for their most confidential talent projects. With over 30% of all assignments being confidential, Pacific has established secure systems, processes, and procedures to complete these discreet mandates so our clients can have full control over how and when to announce the leadership changes. Trust is difficult to earn so we take it very seriously."
In addition to the importance of confidentiality, the positions required specific expertise and experience in the aerospace sector, particularly with a focus on metal-related knowledge. RUAG Aerostructures is based in Germany with its subsidiary operations based in Hungary, and as the roles were primarily based on-site, they required candidates who were either local or willing to relocate which is challenging in the era of remote and hybrid working arrangements.
Pacific conducted thorough market research and utilized its extensive network to identify potential candidates and levered it for referrals. Despite the male-dominated nature of the aerospace industry, Pacific made a conscious effort to present a diverse range of candidates. This approach aimed to highlight the importance of promoting diversity and inclusion within the sector and the significance of DE&I for RUAG.
The Solution
The EHS Manager role proved challenging due to the combination of the strict technical requirements and extensive leadership experiences needed for this position. Sandra commented: "After a candidate initially accepted the offer and subsequently withdrew, Pacific promptly identified and attracted an alternative candidate. In recognition of the quality of the presented talent, the client proceeded straight to an on-site interview. The candidate's suitability, positive attitude, and ability to deliver convinced RUAG to proceed with the offer, resulting in a successful hire.
"These few sentences make this process look so easy and do not give a complete picture of the amount of research that went into identifying over 160 candidates, 20% of them female, conducting numerous screening and sourcing calls, internal interviews, and assessments. But ultimately, each mandate is about finding the best person for a specific role and we are very proud to have achieved this for RUAG with this appointment," commented Sandra.
"The Head of Procurement role presented the tougher challenge. Pacific presented multiple candidates, of which two reached the final interview stage giving the client the ability to choose the best combination of skills and cultural fit from qualified candidates, demonstrating Pacific's ability to fulfill the client's requirements," she explained.
Sandra added: "Throughout my career, I have worked on some tough mandates but the highs and lows this project took our team on make Kingda Ka, the scariest roller coaster in the world, child play. However, Pacific's team thrives on such challenges, and getting a positive outcome for our client after a journey like this makes it even more rewarding. The successful candidate is due to start at RUAG at the beginning of September and we are staying in close communication to ensure their smooth transition into this exciting new role."
The Ongoing Partnership
Following the successful completion of this multi-hire project, Pacific has firmly established its position as RUAG's Trusted Advisor and Talent Acquisition partner. Pacific's ability to present valuable candidates and their commitment to professionalism and market knowledge further enhanced the client's confidence in their services.
Kerstin Krefft, HR Director Aerostructures Germany & Hungary at RUAG Aerospace Structures, commented:
"Active Sourcing is a complex and time-consuming endeavor that demands a significant amount of empathy and psychological finesse. Pacific has fully convinced me in all respects, particularly through their high degree of customer proximity, technical expertise, and impressive responsiveness. With genuine enthusiasm and motivational prowess, Pacific not only identified a remarkable number of compelling candidates for RUAG but also effectively placed them, providing invaluable support to our business."
For a confidential chat about how Pacific International can assist you with your Automotive and Aerospace Industry Talent Acquisitions and Diversity challenges, please contact Manuel Preg or speak to one of our Executive Search Consultants specialising in another sector.
Recent posts
Sprechen Sie mit unseren
Executive-Search-Expert*innen
oder senden Sie uns eine Nachricht
Ihre Anfrage